So exciting to take first delivery of our first test brew: Crumbs Amber Lager version 1. Feels like it's taken a long time to get here when in reality it wasn't that long ago I was munching on a bacon sarnie in Chalk Hills. Before you ask though – sorry, we haven't made enough to get out and sell it at this stage. This was just to test the process and most importantly work out if our recipe delivers the kind of beer we actually expected.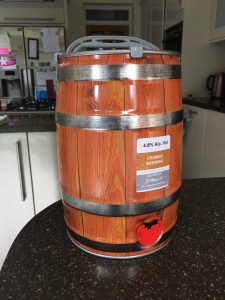 So what does it taste like?
The big question – is it any good!? Well, I know we might be biased but the answer is most definitely "yes".  I say "yes" even though Elaine, who is definitely not a beer drinker (she's holding out for when we repurpose an artisan ingredient to make prosecco) was quoted as saying "That's the least offensive beer I have ever tasted" – that's one for the advertising campaign!  It's actually a glowing endorsement from a long suffering wife who has been on more brewery tours than she cares to remember and is fed up of me going "try this beer, it's different, you'll like it". The fact that Crumbs hasn't been rejected outright is actually quite a big step forward!
So how would I describe it? I'm no expert when it comes to tasting notes (and to be honest, find so many 'experts' disappear up their own expert backsides at this stage) so bear with me.
We purposely brewed this to have more of an accessible lager style without excessive hoppy bitterness – I'd refer to it as a Vienna Style lager.  This allows the maltiness of the bread to come through and gives it a really 'warm', rounded finish – sorry that sounded a bit wanky didn't it – let's just say its extremely drinkable! The eagle-eyed amongst you will also notice this batch came out at 4% abv. That wasn't actually the intention – a few issues with our mash temperature left us a little low. This will definitely be something we dial up slightly in the final product, aiming for 4.5 – 4.8%, a bit stronger but definitely still not rocket fuel.  We want this to be something non-beer 'fanatics' will enjoy. If you like Chalk Hills bread and the artisanship that goes into making it, then you should like Crumbs.
We also tested a Belgian yeast in the making of version 1 – giving the beer a bit of complexity and interest without overpowering things. The 'Belgian' character it gives (think hints of a beer like Leffe) wasn't necessarily expected but it's working quite nicely, especially when the beer is well chilled. We might dial it back a little in version 2 – we'll have a play around (you see what I said about our slightly 'relaxed' approach to brewing – she'll be good).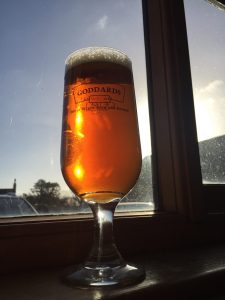 One real positive, even though this was brewed using bread, the totally unfiltered batch this is still looking pretty bright. We weren't sure how cloudy the beer would be, we partly expected something wheat-beer-esque. It wouldn't have been a massive problem (I love a good wheat beer) but the cloudy look can be a bit polarising. This looks great, you couldn't really get much more 'amber'.
So, there are definitely a few tweaks to explore in V2 but we couldn't be happier with how this turned out. It's a shame we didn't make more. Just deciding if we do one more small brew before going big!  Thanks for bearing with us – hopefully we're making you thirsty!  Realistically it'll be May before you can get your hands on it – not too long. Just close your eyes and imagine a warm spring day, flowers in bloom and a cold pint of delicious Crumbs!  Can't wait….
Which reminds me – we really need to think about some bottle designs, a bit of marketing and maybe getting some nice local retailers to sell the stuff for us.  Minor details. Sure we'll be fine!