Excited by the fact we seem to have a great beer on our hands it was time to turn our attention to a bit of marketing. Most importantly what is Crumbs actually going to look like? In a sea of wild and wonderful craft beers that seem to be growing in number by the day we need Crumbs to make some noise.
We're confident the people of Reigate will love our story and the journey we've been on – but if we're not wearing the right clothes you might not even give us a second look!
Step in yet more new local friends – the wonderful team at Four Leaf design in Reigate.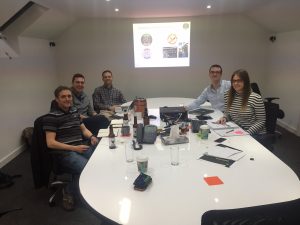 Kate, Mark and Matt couldn't wait to get their teeth into the challenge as well as getting their mouths round a few samples of Crumbs Amber.  Their passion for beer was quickly evident (or maybe they only recruit raging alcoholics?!?) It was only 10am but the team reassured us they'd all had big breakfasts and weren't driving home that day.
No bullshit here please
The meeting was refreshingly low on what we officially term as "marketing bullshit". Having spent a lot of my career working with brand and advertising development its amazing how quickly you can slip into some terrible parody of an East London hipster advertising agency type who is high on confusing jargon but probably quite low on intelligence and dress sense.  With our own brand we have instilled an immediate system of fines for anyone saying bizarre things like "what is the emotional essence of the brand?", "does the curve of the letter C resonate with the warmth and personality at the heart of your mission?", "what subconcious response do we want the brand to inspire in potential consumers?"….. I dunno – that they actually want to bloody well drink it!?!
Luckily we warmed to the Four Leaf team as they are distinctly free from bullshit but very high on skill, creativity and good old fashioned common sense. Thank heavens for that!
Really looking forward to seeing their ideas.