Hello fellow Crumbers!
I hope you've had a good summer? Although last time I wrote I seem to remember we were basking in 30 degree heat,  shame it didn't quite last!
Life at Crumbs Towers has continued to be hectic, hopefully you'll have seen some of our recent updates? At the risk of repeating myself I'll give you a whistle stop tour of all things Crumbly over the last couple of months. Strap in, there's a lot to say and not long until my fingers start to ache from typing, so pay attention:
Brew Two… done
Brew two of our Amber was brewed and bottled mid July.  Thankfully it's just as good at the first brew, Goddards have done a great job at controlling the consistency and we even managed to avoid head brewer Nigel having a heart attack this time by turning up with frozen crumbs. A few cunning innovations helped the mash drain far more smoothly this time so it was smiles all round – Happy Days!
We also trialled creating a couple of casks from the brew. As they were taken straight from the fermenter before the bottled beer is conditioned and lightly carbonated it created quite a different style of beer – thanks to our friends at Four Hops for putting them on tap. Look out for more from the next brew!
Crumbs are Crowdfunding!
Thanks to you, our amazing customers, our Amber continues to fly off the shelves. We think it's time to add to our range by getting our hands on more of Chalk Hills lovely left overs.  Specifically their beautiful Sourdough and Rye breads.  We need your help with two things:
Tell us what we should make: A simple online poll HERE has a number of ideas for beers we could make with both breads. Have your say (poll will close early September). As I write, the Sourdough New England IPA is winning but it's close…. every vote counts!
Sign up to hear about our Crowdfunder: As we're not made of money (and our Crumb Counter, Elaine, has a rather tight grip on the purse strings) we need your support to make more brews. Our cowdfunder will give you the opportunity support us with small donations. In return you'll be the first get your hands on the new brews when we make them at unbelievably low prices. Sign up HERE and you'll be first to know when it all starts to happen. If you've already signed up – THANK YOU – we really couldn't carry on doing this without your support!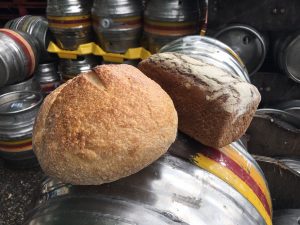 We've also spent the last few weeks creating a Crumbs Crowdfunding video. Keep your eyes peeled for its release.  It contains some acting skills that redefine the profession. As well as inspiring you to support us we firmly believe the phone will be running hot with offers of acting work. Next stop the Oscars…..
We're winners (well, nearly)!
Talking of the Oscars, our last, hugely exciting, update is that we've been nominated as finalists at the Surrey Life Food and Drink Awards in the Innovation category!  We're up against two great competitors in Silent Pool Distillers and Briscoe's Jellies. Whatever happens at the awards ceremony in late September we're all winners!  It would obviously be nice to be actual winners though so can I just take this opportunity to say I have looked at the judging panel online and they look like the most beautiful, intelligent people I've ever seen. Should you decide to make Crumbs Brewing the overall winners I'm sure you're names would go down in history as true culinary visionaries…… at least that's my opinion 😉
Crumbs, it's all very exciting!