Wow, Reigate, you are a thirsty lot!
Today we officially brewed our 30,000th bottle of Crumbs!
Now that may not be a lot compared to the big boys who probably make that much in a few hours but, to us, that is a pretty amazing amount!  To think we didn't know how to brew, let alone brew with leftover bread less than 7 months ago!
We never imagined we'd have made so much in such a short time and, at the risk of sounding a little cheesy, we couldn't have done it without you. When I say 'you' I mean a few very important groups:
Our awesome drinkers. You've been so supportive of what we're up to. We are only selling our beer in quite a small area so there are clearly a few of you that have drunk quite a lot! Just to be clear, we fully support responsible drinking, but please carry on drinking as much as you do, it is nearly Christmas!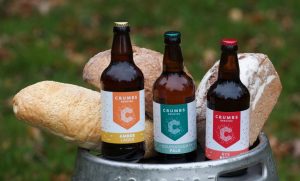 Our Crumby Crowdfunders. Without you guys our new brews simply wouldn't exist. Hope you are wearing your t-shirts with pride?! Your feedback has been great and we're so glad you like the new beers (if you didn't like them – sorry – unfortunately you're stuck with them! You could always give them away as Christmas presents).
Our local sellers. We never really expected so many local businesses to get behind us, the advice and support has been amazing. If some of you could just pay your invoices a bit quicker that would be even better – I'll name no names.
If you don't fall into one or more of those three groups then what have you been up to all these months??  As well as our awesome Amber there are two new brews for you to try – the light and zesty Sourdough Pale and the dark and mysterious Rye Ruby. Keep an eye out for them in our stockists or at a range of local events over the coming weeks.
Our very smart 3-bottle gift packs make unbelievably cool Christmas presents. Let's face it – we all have those strange relations we struggle every year to buy for. Just imagine the look on their face on Christmas morning when the usual pair of novelty socks or Old Spice gift set has been replaced by three awesome local craft beers. Not just any old beers, but beers made from unsold artisan loaves from your local bakery. Minds will be blown and your share of future inheritances will increase significantly. You'd be mad not to stock up NOW..!
All the best fellow Crumbers, sorry for being a bit slack at writing recently. If we don't get to put finger to keyboard again before Christmas then have a great one.
Come and say hello at the Reigate Christmas Fayre on Saturday 2nd December (after you've watched Santa land by helicopter! How very Reigate…)