Father's Day is fast approaching
A long time ago in a galaxy far, far away a young Jedi was wracking his brains with what to buy his father for Father's Day. Yes, he'd recently discovered that his Dad was an intergalactic warlord and the biggest villain in cinema history but, hey, even those kinds of Dad deserve a present.
*Yes, yes I know the quote in the blog title is incorrect and, indeed, shortly after finding out who his father was the Jedi in question wasn't considering what present to buy him but actually throwing his body onto a large bonfire, but just run with it. I was struggling to think of a suitably random intro to this blog.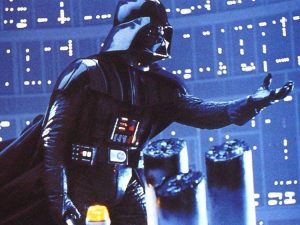 Anyway, never fear Master Luke – Crumbs Brewing are here for you. We have the Father's day present to end all Father's Day presents. Indeed, because you are reading this blog (and let's face it you are probably one of a very small number that actually do) you have the chance to get your hands on a present not actually available ANYWHERE else.
A celebration of Reigate's rich brewing history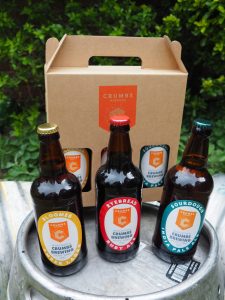 It's not just a three pack of our Crumby beers, which in it's own right is a pretty stellar present. But its a three pack of limited edition, retro labelled, hand signed bottles of our beers. That's got to be better than a new pair of socks or a Haynes Manual on how to maintain a Death Star?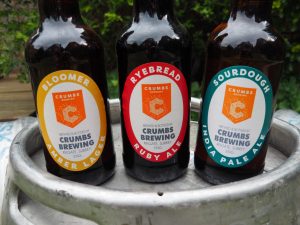 These beautiful limited edition bottles were created by the awesome local business Dreamraven. Designed to celebrate the recent launch of our local beer walks they could have been produced by Reigate's Mellersh and Neale – at one point the one of the largest brewer in the South East.
If you were't aware Reigate had such a rich brewing history then make sure you book a place on one of our  Reigate Beer Walks (indeed maybe buy a ticket for your father as an extra present – he'd be a VERY lucky man). You'll get a fascinating tour of the historic brewing sites in Reigate followed buy a chance to taste our Crumby beers and those of the mighty Pilgrim Brewery (including a quick look around their newly refurbished brew kit). Buy your tickets HERE
Never fear though – our limited edition bottles contain the fresh and delicious beer we brew today. Each pack contains one of each of our brews – the Sourdough Pale Ale, our Bloomin' Amber Lager and the dark, rich Rye Ruby Ale. They are available exclusively from us and (as there are only c.20 sets) they are only available for local delivery. Get your skates on, it's first come, first served…
Buy your pack at the link below.
https://www.crumbsbrewing.co.uk/buy-three-pack-vintage-edition/