Hello Crumbers!
Where did time go?? Sorry it's been so long since we posted. We've been busy keeping a lot of you hydrated during the long hot summer. Our Sourdough Pale Ale seemed to be going down particularly well, as did the continuing popularity of our Reigate Beer Walks (if you haven't been yet check out our next dates and availability HERE). Thanks so much to everyone that has continued to support us.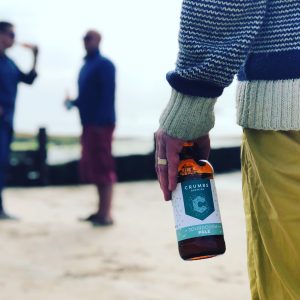 Exciting News
Now the nights are drawing in and its getting a bit chillier we have some hot off the press news to warm you up. Tomorrow we start brewing our brand new Rye Coffee Porter. We're soooooo excited!
For those of you that haven't heard us bang on about our plans to develop this beer in the past, our Rye Coffee Porter will not only use leftover Rye loaves from Chalk Hills Bakery but also make use of the huge amount of used coffee grounds the cafe get left with every day. It's a double whammy against all things wasteful. We're adding a spot of grinding to our crumbing!
To be brutally honest, the reason it's taken us a little longer to develop this beer than expected is that we weren't happy with some of our early recipe ideas. That was until the lovely team at Union Hand-Roasted Coffee stepped in to help out. They provide Chalk Hills with all their coffee and were really interested when they found out what we were up to.
The challenge is that used coffee grounds alone can impart a lot of bitterness. They suggested we also complement the grounds with some of their new cold brew coffee. We loved this idea and Nigel, our master of all things brew, was even more excited as it opened up the opportunity to use this beautifully smooth and cold filtered liquid at the fermentation stage rather than simply in the mash.
So that's what were going to do! As with our approach to a lot of things in our short existence we're cracking on with the brew tomorrow after having made a fair few tweaks to our recipe, so there's always that bit of trepidation to find out what the final product tastes like. We're pretty sure it's going to be a cracker though. Keep an eye on our Twitter and Facebook to find out how we're getting on. With any luck you'll be able to get your hands on a bottle of a gorgeous 7% Rye Coffee Porter later this month.
Did someone say FREE???
While we're in a good mood we've also got a final piece of good news. October is going to be FREE DELIVERY month in our online shop. Yes – FREE! Perfect for you to stock up post summer or even get yourself prepared for the festive season (although seriously, if you are already buying Christmas presents you really need to take a long hard look at yourself in the mirror 😉 ). Cases, mixed cases or our ever popular 3 bottle gift pack all delivered direct to your doorstep for nada, nowt, nothing.
Click HERE to get ordering!
Thanks Crumbers – have a great October and keep your eyes peeled for the new brew….