Our beers have always had an environmental purpose at their heart – doing their bit to fight the growing problem of food waste by turning unsold bread into beer. But we never wanted that to be the extent of our story.  However well-polished your environmental halo, there is always the possibility to do more.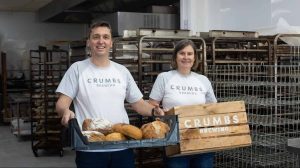 –
If there's one thing you can take from the rollercoaster that was 2020, it's that there are some great people out there doing some really great things. We wanted to push ourselves further.
With that in mind we are so pleased to say we've set up new long-term partnerships with two fantastic charities.  It'll mean when you crack open a beer purchased from our online shop you'll be feeling amazing because:
You'll be be enjoying our great tasting beer
You'll be a food waste fighting hero, ensuring lovingly made artisan bread doesn't go to waste
You'll be helping to feed someone in need with a meal made from surplus food by FoodCycle
You'll be planting a tree that will quite literally keep this planet alive by supporting Just One Tree
–
I'm not sure how many other beers can do all that in one glass!?!  How could you possibly consider drinking anything else??
–
EVERY Purchase makes a difference
We are so pleased to get FoodCycle and Just One Tree on board.  Please follow the links to their websites to learn more about them.
EVERY product you buy from our online shop will contribute £1 to charity (50p to each). No need for you to register your interest in getting involved (like some other breweries we won't mention) and not just focused on specific beers. EVERY purchase counts.
–
Buy One – Nourish One
FoodCycle were an absolute no brainer for us to approach. We loved the way their projects not only focused on feeding those in need with food that would otherwise be wasted but also the fact that they have community at the heart of what they do. Giving people a decent meal that they can eat with others not only nourishes them but also fights loneliness. People get fed and also feel happier by connecting with others – we love that, it's what a well-run pub can achieve as well!

–
Buy One Get One Tree
Similarly, Just One Tree struck a chord with our ambition.  We repurpose mere 'crumbs' in the grand scheme of the global food waste challenge but we know we are making a difference, however small.  Every £1 we contribute to Just One Tree will actually enable them to plant one tree. That one tree will absorb 48lbs of carbon dioxide per year for every year of its life. One small tree but one big difference.
–
So, if you haven't tried our beers before please click on our web shop and give them a go.  Buy one, fight food waste, feed someone in need, plant a tree AND enjoy a great tasting beer……. So much from something so little.
Crumbs Brewing, delicious beer, bread with purpose